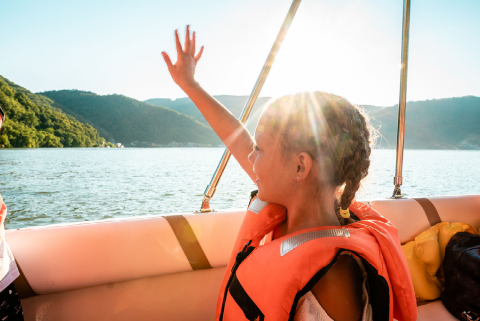 Are you wearing the right life jacket?
Boating season is upon us and accidents on the water happen too often. Many lives can be saved with the simple act of wearing a life jacket.  
There are many different styles of life jackets. Find out which style is best for you: 
Suspender Inflatable 
This life jacket uses inflatable technologies that are comfortable and inflate automatically when immersed in water. 
Belt-Pack Inflatable 
This life jacket is worn around the waist and inflates automatically when immersed in water.  
Inherently Buoyant 
These are lighter-weight life jackets and come in a variety of colors and styles. They have multiple buckles to keep them secure.  
Children 
Many child life jackets include a variety of colors and designs. Some include straps for pulling children from the water and head support. Make sure it fits. 
Pets: 
Yes, that's right. Your pets need life jackets too. Pet life jackets often have handles on top to pull your pet out of water when needed.  
After finding your style, make sure it fits. Here are steps to make sure your life jacket is a proper fit: 
Make sure the life jacket is properly fastened. 
Check that all straps, buckles or zippers are secure. 
Hold your arms straight over your head. Your life jacket should have a snug fit.  
Ask a friend to grasp the tops of the arm openings and pull up.  
For information on life jacket care visit Safeboatingcampaign.com 
*safeboatingcampaign.com